At this stage of development adolescents are wondering – who am I and who can I be? It is a time of transition and transformation during which they are discovering and defining their identity and how they fit in. According to renowned psychologist Erik Erikson 'this emerging sense of self will be established by forging past experiences with anticipation of the future…. adolescents are confronted by the need to re-establish boundaries for themselves and to do this in the face of an often potentially hostile world'. It can be overwhelming. And yet, during this journey of self-exploration, youth are naturally curious, courageous and audacious.
At Power On, we are seizing this opportunity to empower youth with the tools they need to become their true selves and navigate an increasingly challenging world. At its core, our youth based programming is focused on two things: First, building the confidence and self-esteem of our youth by helping them both discover and contribute their powers and passions, and second; building their observation and awareness skills so they can see others through a positive lens and form strong and collaborative relationships with their peers, parents and educators.
"And the day came where the risk it took to stay tight in the bloom became more painful than the risk it took to blossom" - Anais Nin
This intensive program is designed to create the space within which educators can discuss the challenges they are faced with and help them think about how they can use their unique gifts to create a more inspiring experience for their students.
What to Expect:
Discuss the external challenges and demands that make it difficult for youth to embrace their best selves.
Identify their unique inner qualities (powers) and passions and how they add value to the world.

Discover how to articulate and advocate for their gifts

Adopt a positive lens with others and see people for what they bring vs. what they don't.
Identify the barriers to success and the boosters that will help them thrive.
Explore how to collaborate and consult with others to make an impact in the world.
Create strategies and rituals to intentionally develop and offer up their best.
Our Youth Empowerment Program runs inquiry-led and interactive workshops aimed at middle to high school level students. Our 12 module curriculum can be delivered in the following formats:
12-Week Experience (Recommended)
Recognizing the need to be flexible this option covers the curriculum over a twelve-week period. Youth come together weekly for 60-90 min and are provided project work between sessions. This approach allows for application over time. Youth will leave the program having practiced core concepts in the real world and having built lasting relationships with their peer group.
2-Day Workshop
This two-day live workshop is designed to provide space within which youth can discuss the challenges they face on a daily basis, both at school and at home; discover what their unique passions are and have the opportunity to offer them up in a service project. Youth will walk away having built strong connections with their peer-group and with a renewed sense of self and purpose.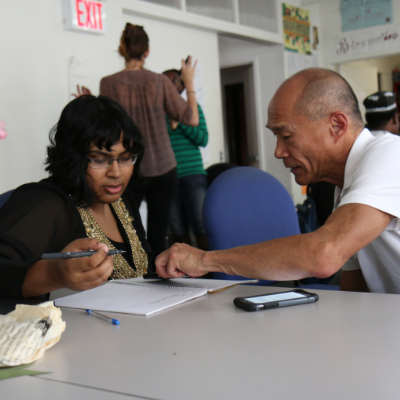 Interested in holding a Power On Youth Empowerment Workshop ? Fill out a request form today to receive a quote and full outline of our modules!